Quote of the day: "Spread love everywhere you go: First of all in your own house...let no one ever come to you without leaving better and happier. Be the living expression of God's kindness; kindness in your face, kindness in your eyes, kindness in your smile, kindness in y our warm greeting. - Mother Theresa
Did you know: That Rule #1 is Obey the Rules. -that's what my dad told my brothers and I, during dinner @ Roy's in Newport Beach for my mom's 51st birthday.
Thought of the day: Well my friends, I'm so happy to be a guest blogger here on the infamous Alvinisms. thank you Alvin for the opportunity to say hello to the internet world. who knows, this little taste of the web may even inspire me to start up my own blog! Haha, but let's not get ahead of ourselves.
So lately, I've been feeling like its time for me to move forward with my life and actively strive for the one thing that i have always wanted to do with my life, which is cook! I'm not sure if this boost of motivation came from graduating from SDSU,congratulating my older brother on starting up his own legitimate advertising and design company just two weeks ago, getting another year older, reading these Napoleon Hill Success books, watching Oprah or seeing people around me accomplish something they have dreamt of for so long. but whatever it was that made me want to get my booty in gear, I'm glad it happened.
Although, I've loved this vacation from school and actually having a real summer break with no school to worry about, i feel the need to do something else and make things happen for my future. in the next year i will be in the state of New York studying the culinary arts at the Culinary Institute of America. and within the next ten years i want open my own restaurant!!! so, look out world, big things are about to happen!!!!
I've been actively looking for a job cooking and i have an interview this Thursday to cook at this little Italian restaurant in PB and i'm really excited and i really want this job. i need experience in a kitchen and gotta start somewhere, right?! so, please send me all your prayers, good vibes, and wishes of success cause i will surely need it. thanks, I appreciate it.
That's what's been going with me. thanks for reading this far, and i hope that whatever is going on in your life will bring you much happiness and really good, full belly laughs, that make your face explode with joy, and make your soul smile.
life lesson from my dad: in a relationship with your family, friends, or loved ones, its very important that when someone is hot, heated and mad, the other person is cold and cool. cause if youre both hot its only going to make the fire burn longer and stronger and everything is gonna get burned. one person has to be cold to put the fire out. - this is all true, my dad wouldn't lie to you!
Thanks again, I love you! my family and my dogs love you too! Good Day, Peace Out!
Song of the day:
Here's the song of the day, its an oldie, but i like how this singer covered it. you can thank my younger brother who is a musical genius, for opening my ears to different artists that you don't hear on 93.3fm. (this is the caption, i'd like to have under the song of the day video

This is one of my favorite pictures! its the day of my graduation from SDSU!!!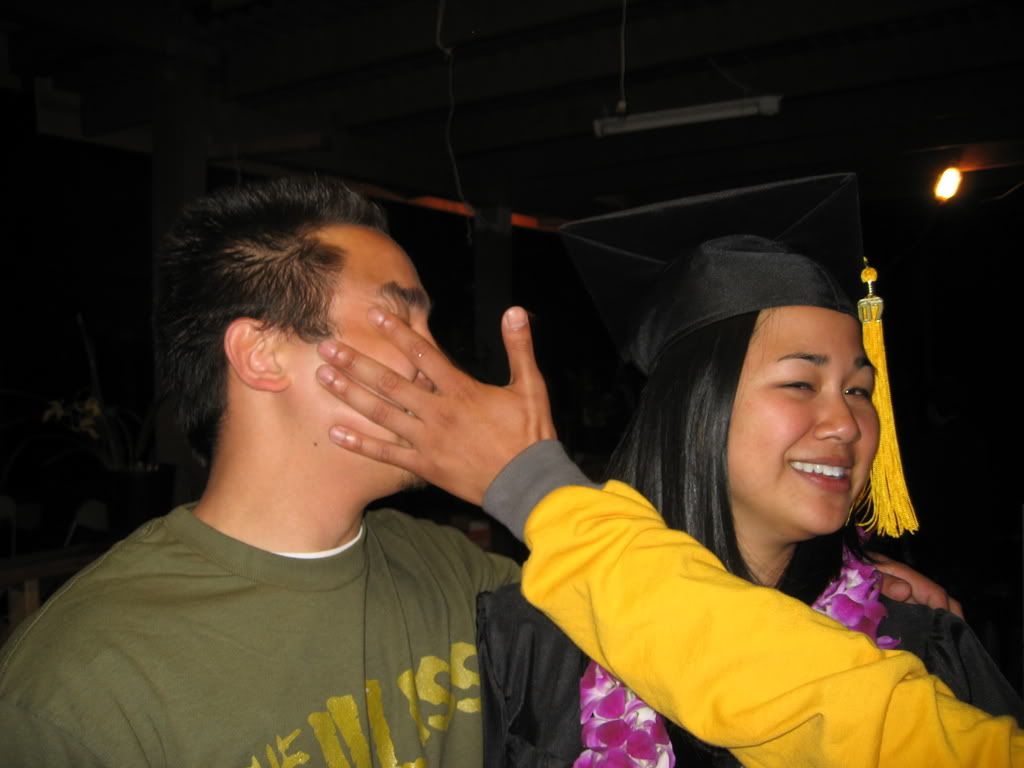 This is one of my favorite pictures of Tj Retuya! haha, i love you, today! hahaha

Thanks Alvin!
Love,
Josephine