"The time to repair the roof is when the sun is shining."
-John F. Kennedy
Did you know: Ants don't sleep.
Thought of the day: This weekend was a lot different than other because this time Preezy was in the bay visit her cousin and drinking loads of wine.
Friday I woke up extra early to drop off Preez to the airport and proceed to work at the school and then at the shop equalling one very long day. Afterwards, Fatcho and I went to his house to chill but we ended up going to a party w/ Rose, Neill, TJ, Alex, and Josephine. Things got weird I guess and we ended up drinking and eating at Friday's w/ more friends meeting up. I got another challenge for you TJ.
Saturday was another long day w/ working all day the shop and then driving down for Body Rock which I must say was pretty awesome. But the best part of that night was seeing all my old dancer friends and especially my Mavynites and TM. I'm proud of all of you and I hear very good things. Stay humble, stay fresh, stay together. Hey, Melissa and Bonnie, can you send me the picture? Arigato! Afterwards Chris, Orrie, and Ojay ate at Dennys and Orrie did the usue and fell asleep. End night.
Sunday Preez comes back and I'm picking her up at the airport and then we're gonna go home to chill for a bit before hitting up Eddie at Embarcadero Park for some skating, fishing, friends, beer, chess, and just chillin. Hope to see ya'll there. Peace. Love. Faith.
Random thought of the day: If you try to fail and succeed, what have you really done?
-Alvinism of the Wildboyz
-So happy your back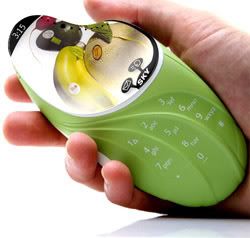 Sorry that I don't have any pictures but I thought you'd think this is weird too. Its a phone that smells your food and helps you keep track of your calories. Hmm...new random thought. If you hold it to your butt, how many calories is in your crap?...
Lately I've been intrigued by sidewalk chalk art. This stuff looks pretty real and there are even more crazy ones coming in the next Alvinisms. Have a great Sunday!
www.wbz4life.com
www.mavyn.com
www.willysantos.com
www.tmdance.org