"Examine what is said, not him who speaks."
-Arab proverb
Did you know: See the end of the Thought of the day.
Thought of the day: This weekend was nice. Eddie, Ron and I had a pretty successful garage sale for a Sunday. Both Ron and I raked in about $50 each off of crap and Ed pulled like $100. Thas good for Sunday, the day after St. Patrick's Day and whatnot but anyway. It was a long day cuz we woke up at 5:30 a.m. and finished at noon. Afterwards we went all the way to PB to sell the rest of Ronnie's clothes where he made more cash. But it didn't stop there, we went to Pacific Drive to pick up a Mark Gonzales Krooked deck and see some stuff. Then we started grumbling in the tummies. We called for times of Niban, Sushiya and other Japanese restaurants cuz Eddie was pheening (dunno how to spell it) for some Japanese cuz him and Ren will be leaving on Thursday, so we ended up grubbin at Mitsuwa. Boy oh boy do I miss eating Japanese food everyday. So after all this you'd think we'd be done, but NO suckas! Like true warriors we went to Fashion Valley for some panties and our favorite Apple store only find out that it was closed for some reason. Oh well ho hum moving on. Great day w/ my best friend and Ron and Anaballz. Missed the girlfriend all day. Thank you friends.
Tonight both Purple Haze teams played each other in the first round of the playoffs. Guess who won!?! The Purple Haze of course! But then again another Purple Haze team had to lose. No matter, we all had great few months every monday watching the games and then jettin for some In N Out or getting home for Heroes. But next week we will see if the Purple Haze will reach the playoffs. So for all you fans, get your shizz talking faces ready and see you at AIU next Monday. Did you know Jamie Foxx went to AIU? Peace. Love. Faith.
-Alvinism of the Wildboyz
-Solar and Fly Swatter
Click on the picture to enlarge, its the ad for our "Super Awesome Rancho Penasquitos Garage Sale" on Craigslist. Gotta love dem samurai swords.
This is probably one of the best mods I've ever seen. Yes I am a nerd but I don't care. It a Nintendo Wii moded for The Legend of Zelda. The sword can be sheathed and unsheathed. The white is now textured black and smooth gold. All the white lights have been replaced with blue lights. And so much more. I could spend $250 for a normal Wii or I think $1300 for this one.
Die cast metal emblem. I think Im gonna lose a few readers after this one because I'm so into nerdy things.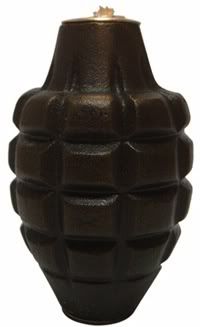 This is an awesome candle or torch thingie, but I'd probably be crapping in my pants the whole time. Just in case.
This video was found on Laguna's blog and I thought it was amazing. Thanks for the great find buddy.
www.wbz4life.com
www.mavyn.com
www.willysantos.com
www.tmdance.org