"Ye shall know the truth, and the truth shall make you free."
John 8:32
Did you know: Steve Irwin aka the Crocodile Hunter was killed by a stingray!!! Crikey, I'm gonna miss the fella. One more did you know. Did you know that today marks the exact 2 week point till Vince and I leave.
Thought of the day: Yesterday was the most fun Labor day ever. We skated with the Willys Workshop skate team yesterday and some guests in Willy's mini ramp in the backyard for like 5 hours. It was a definitely super sick. Taylor does a steezy dogpiss. Aric gets up on the hella high fun box extension. Everyone rips the giant wallride. Watching dope skating upclose (not like from the stands, but like on top of the ramp) is always so so fun. But the day didn't end with just bbq, drinking, and skating. Later in the evening when it cooled down we played soccer, kickball, and football. We friggin love playing sports together.
Earlier at HOB this weekend I got soooo blitzed that Edwin and I left around midnight to eat pizza and skate downtown. I went home thinking I had keys to Apreezy's place but turned out to be my house keys so I slept on the mat outside until she got home. What a night.
The WBZ now have 2 basketball teams so come support next week as the season begins. What a weekend it has been. I hope to see ya'll at Excelsior this saturday; its a going away party also for myself. Gotta go cuz Blaize just pooed and it stinks in here; time to clean it up. Love you guys. Peace. Love. Faith.
-Alvinism of the Wildboyz and Mavyn
-Handyman time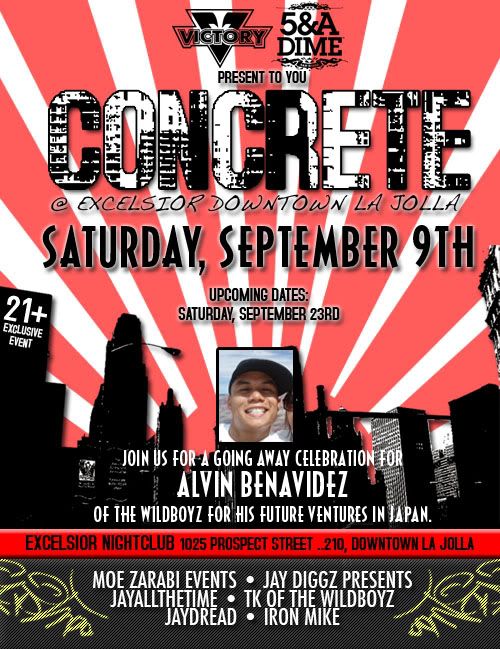 Oh my ghad, I'm the only one on the flyer. Toes can you leave my girlfriend in with me please? I'll edit it if you want. I hope to see all the homies there. Don't forget to come on the 16th to La Jolla Shores for Vince and I's going away. Thanks.
www.wbz4life.com
www.mavyn.com
www.willysantos.com
www.tmdance.org