"Photography is a way of feeling, of touching, of loving. What you have caught on film is captured forever... it remembers little things, long after you have forgotten everything."
-Aaron Siskind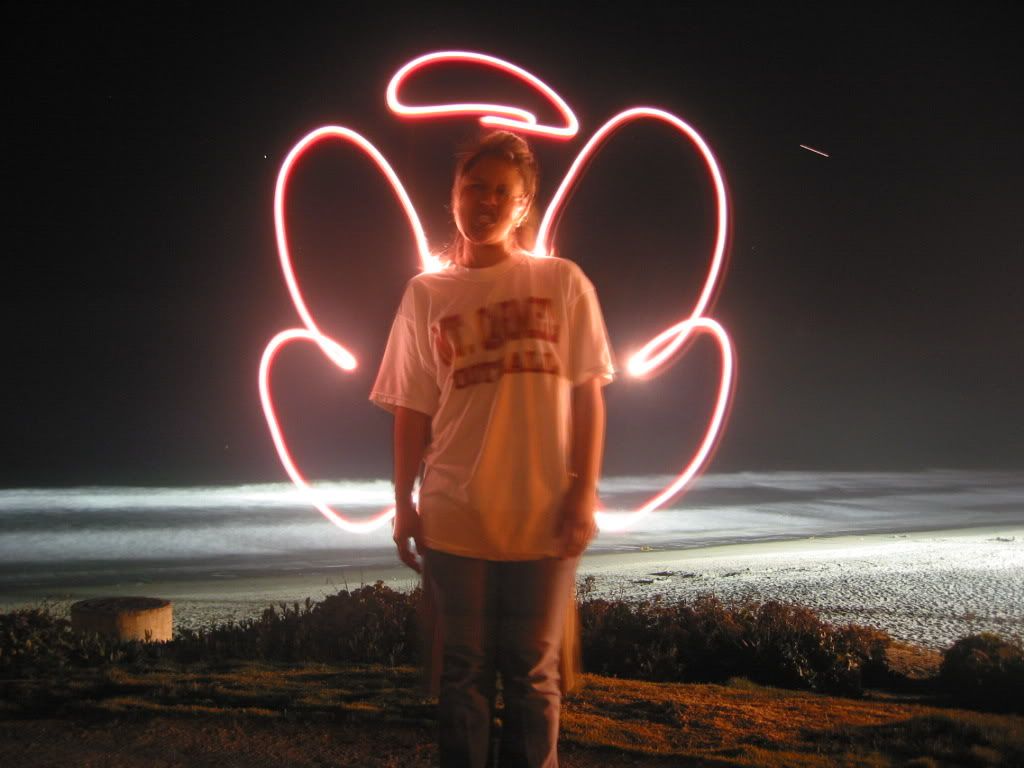 Apreezy doesn't like her pics on here all the time, especially when I pick her up in the middle of the night to shoot photos @ the beach. This is our first time playing with lights and longer shutter speeds so sorry for the blurry blurs. She's still so cute though, and you gotta love the MC Football shirt!
Did you know: Bobby Fischer is not really the son of someone named Fischer. That is actually the name of the his mother's husband and his biological father is a Hungarian-Jewish named Paul Nemenyi, whom she had an affair with in the United States.
Bobby Fischer really is in hiding because it's even hard to find good pictures of him online!
Thought of the day: Last night was a great night especially since the day started off bad. Preezy and I went to Del Mar to shoot some photos and actually did the walk on the beach thing. Corns Mcgorns!!! But it really was nice especially when there are like 10 little birds playing with the waves, it was really...for lack of a better work...cute. Anyhow, I can't wait for TJ tacos on wednesday or thursay, if you wanna go lemme know, we might go at night so more peeps can come and enjoy our devilish delight. Also, we are celebrating my neices first birthday on saturday, and on sunday we have HOB for Toes, and on monday is our ever-so-dope Labor day party at Willys!!! If you in San Deezy, holla at a playa cuz this week is gonna be S-I-C-K!!! Peace. Love. Faith.
-Alvinism of the Wildboyz
-You are uh-mazing.
I know you wanna save this pic for your desktop. Fatch, Orrie, Chris, me, George, Steve, Tee, and Kimtan. Wildboyz 4 Life.
www.wbz4life.com
www.mavyn.com
www.willysantos.com
www.tmdance.org