Hi hi hiya this is the 95th of the many "Alvinisms" which are cool quotes, random facts, or just thoughts of the moment everyday. Check up on the Wildboyz website also because they are on there too under the Chronicles section so you can read old ones! Sign the guestbook please and show the Wildboyz some oo la la. Peace. Love. Faith.
"Fear creates danger, courage dispels it."
-Underneath the cap of a Jones Soda bottle
Did you know: When we say kidneys or cat brains, we're referring to human balls. Haha!
Thought of the day: So the thought of my dog Kodak passing away only hits me at certain moments like when I got home and took out the trash, there was no one to smell my butt or try to knock the trash out my hands. Or after dinner when I tried to feed my leftovers to air. Or when I was shaving my head and looked outside just to see a bunch of concrete or plants. Pets are more than just animals, they're family, security, unconditional love and so much more. Many of you responded to my quote, "people forget what you say, people forget what you did, but people will never forget how you made them fell." Well, here's another DID YOU KNOW; that quote was applied to and if not made for dogs. I miss Kodak.
Tomorrow is Mysters aka Free Hugs aka Dunzo aka Althea of the Wildboyz birthday! You are the bestest! Thanks for making it out to TJ with us, we'll never forget Edwin chugging tequila at 2 o'clock in the afternoon waving his hands or the violinist that hums louder than he plays. I'll see you later and snipe your ass to a million little pieces. Love you!
Saturday is party of the year every year with the Santos Anniversary Party! Happy Anniversary you guys, its been a long time since we've known each other and I appreciate what you've done for me, the Wildboyz, and just our friendship. Thank you, I love you guys.
-Alvinism
This Toe-Knee being Toe-Knee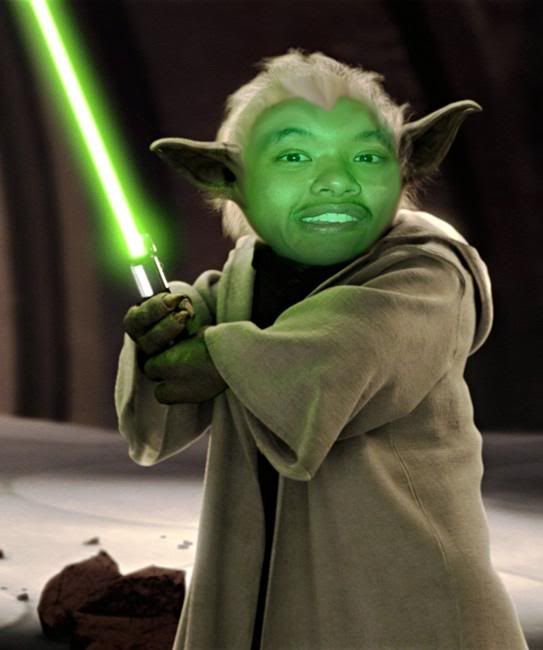 Kimtan of the Wildboyz being Kimtan of the Jedi
Sorry Truc and Rose, I had to put this up, it makes me laugh a million times!
www.wbz4life.com
www.mavyn.com
www.willysantos.com
www.tmdance.org