"Nothing is as far away as one minute ago."
-Jim Bishop (This is one of the best quotes, I've heard in a while)
Did you know: There are 18 different animal shapes in the Animal Crackers cookie zoo!
Thought of the Day: Sorry I missed yesterday, I had the most intense day ever! Starting w/ Pinks Hot Dogs, Museum of Tolerance, Museum Row, La Brea Tar Pits, rolling down big hills, finding dollars, finding out the LA County Museum of Art is free instead of $30, ice cream in Laguna Beach, sitting at the beach, Pagaent of the Masters (ya'll gotta go, it was one of the coolest experiences of my life it was soooo dope and in the most beautiful ampitheatre), view point, and hot chocolate at the rest stop. What a day...what do you do after that. I'll tell you what you do, go to work. See ya'll at the shop suckas! Wildboyz football this Sunday again, we are tied for second so try to come out!!! Peace. Love. Faith.
-Alvinism of the Wildboyz and Mavyn
Watch this music video that Ollie did for his class! The Wildboyz are blowin up and taking over the world yo! Soon Japan will really be dominated! Good job Ollie! It was dope, you dance better than Christopher Walken...and aren't as creepy.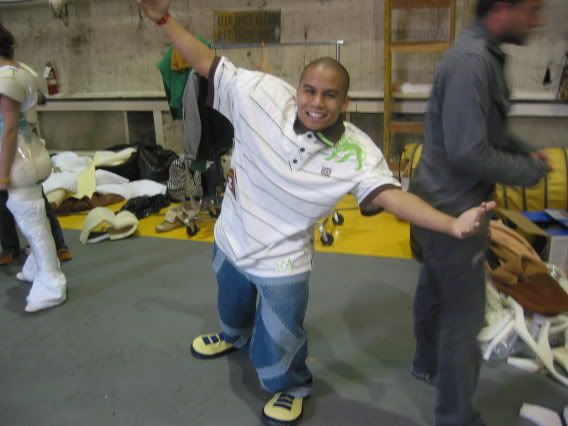 This is me when I danced on American Idol two seasons ago. We had big heads and looked like puppets, Phong and I were supposed to bboy in thes outfits. What the hell!!!