"Keep you face to the sun, and the shadows will fall behind you."
-Kristine aka Kleng my lil sister!
Did you know: The Sun's temperature is 10,000 degrees Fahrenheit at the surface and 27,000,000 degrees Fahrenheit at the center.
Thought of the day: Originally I was thinking about what leaving for Japan would be like, i.e. what am I leaving behind or what am I really getting myself into? Then I thought to myself...I don't wanna live like I'm leaving or worry about how my life is gonna turn out,
today is the most important day of my life
. Tomorrow hasn't come and yesterday has past making today all we have so let's all live it to the fullest and enjoy what is in front of us. Happy boy. Honey walnut shrimp is really good, made with love and care or song and dance, it was really good last night. Peace. Love. Faith.
By the way, happy belated birthday to my little sister Jhinelle aka Nellie aka Jhin! I miss you so much dude and I am so happy to be part of your life. I mems when I was put in your car ride on the way to Lake Arrowhead and was thinking "shit, I'm with all freshies" but you know what...I wouldn't want to ride with anyone else in the car. You are a beautiful person Nellie and still the only ballarina I know! Ya'll three have grown and just thinking about it is such and amazing thing. We have to have a family day soon!!!! I'll buy you a shot the next time we run into each other.
-Alvinism of the Wildboyz and Mavyn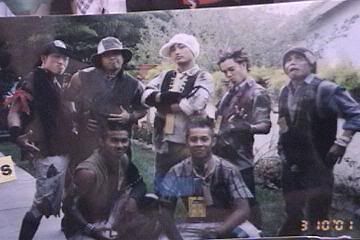 This is some of the Wildboyz acting as Lost Boyz for our 2001 Airband performance Bangarang. It will but up online ASAP.