Hi hi hiya this is the 44th of the many "Alvinisms" which are cool quotes, random facts, or just thoughts of the moment everyday. Check up on the Wildboyz website also because they are on there too under the Chronicles section so you can read old ones! Sign the guestbook please and show the Wildboyz some oo la la. Peace. Love. Faith.
"I'm Willeeeeee, I'm so funneeeee."
-Willy Santos (check out his new site at www.willysantos.com)
Did you know: Willys Workshop employs over 1/4 of the Wildboyz! Alvin, Ollie, George, Freddy, Fatch, Willy, and on extreme emergencies...Toe-Knee "grab the boards on top" Nguyen.
Thought of the day: I've worked at Willys Workshop ever since it opened even when I was in Fullerton. I still love coming in to work not because of the Street Fighter II, not because it's so close to home, not because I get to hook up boards and clothes all day (well actually I do like putting together skateboards); but because I love Willy and Shalihe and they've always shown so much love and support back. I also get a chance to work with a lot of my closest friends, but my Bestest Friend Elainne Payumo (hope you're feeling better, I have cough drops if you want em). "The Shop" or "Willys" has become sort or what "The Max" was in "Saved By The Bell", and unofficial meeting spot where friends shop, play, myspace (only off the clock right Ollie), and just hang out. I wanna give a big shout out to Willys Workshop for helping PQ become what it is. Everyone come in the week cuz I work everyday Thurs - Sunday! And for all you Nike fiends, please be more specific in what shoes you are looking for. Thank you. Peas.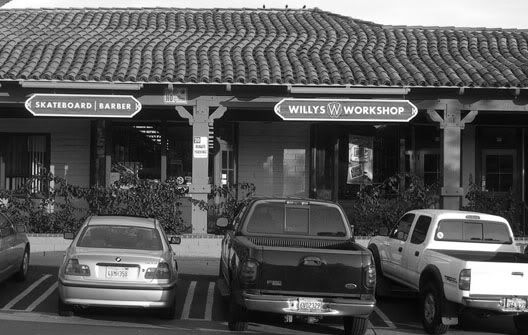 The front of the shop
Our skate section (my favorite section)
shoes (for all you Nike lovers out there, its there)
Our dressing rooms and pictures of all our winners of the raffle. Ever $20 you spend, you get a ticket. Lots of homies have won!
9995 Carmel Moutain Rd.
San Diego, CA 92129
Phone:858-538-5321
Hours: Mon-Sat: 1030am-7pm
Sunday: 11am-5pm
www.wbz4life.com
www.willysantos.com
www.mavyn.com
www.tmdance.org